Industrial Packaging: Tips for sustainable packaging
August 14, 2019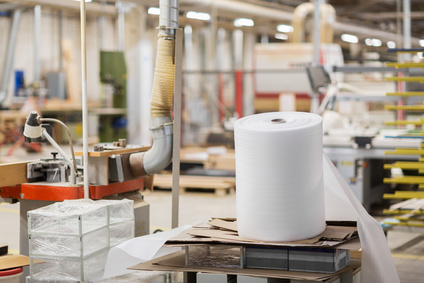 Sustainable packaging is becoming an important topic in the packaging industry. A worldwide focus on the environmental impact of packaging materials makes sustainable and environmentally friendly products more essential than ever.
However, the right product protection must be provided. Products often travel a long way to reach their end customer, so it is essential to create an effective packaging process. We have the right tips and tools around sustainable packaging for your business.
1. Use the right materials
Which materials are sustainable?
A wide array of packaging materials can be used for industrial packaging. Depending on the products different materials and sizes are needed. From film and plastic to heavy paper, a variety of different packaging materials is essential. But which material is the best from a sustainable point of view?
Paper vs Plastic
The top two materials being used in the packaging industry are plastic and paper. Therefore, the question arises, which of the two materials is the best option environmentally, as well as economically:
Paper
Paper is renewable and sustainably grown. It is possible to use recycled materials for the paper production and to recycle it afterwards. On the downside stands the production process of paper. Paper is made of wood, which involves a tedious manufacturing process including deforestation, using limestone and sulphurous acid, spending lots of water and bleach for the cleaning process and finally cutting, printing and packaging it. This process takes more than four times as much energy as the manufacturing process of plastic. In terms of pollution, the paper production generates 70 percent more air pollution and 50 percent more water pollution compared to plastic. When it comes to recycling, plastic is again the clear winner with an energy consumption of 17 BTUs compared to 1,444 BTUs in order to recycle one paper bag.
Plastic
The production of plastic has clear advantages in terms of air pollution, water pollution and energy consumption within the recycling process. A clear downside is that plastic is commonly made from fossil fuels. During the production process toxic chemicals are used which generate hazardous waste. Another critical factor is the danger to wildlife. Lots of plastic waste gets into the environment and swallowed by hundreds of thousands of animals, which mistake it for food.
Summary: Paper vs Plastic
Source: Washington Post 
Another option of plastic is biodegradable plastic. In comparison to traditional plastics, biodegradable plastic is made from plants, corn oil, orange peels or many other degradable materials. As in the production process only natural resources are used, it has less impact on the environment than regular plastic. Besides, slightly higher costs of biodegradable plastics, the main drawback represents the decomposition. Biodegradable plastics don't decompose unless they are disposed of properly. That means, the plastics need to be treated similarly to compost
2. Minimal Packaging
Another sustainable approach is the minimal packaging. Using smaller amounts of packaging materials is both favourable for the environment, and a good approach from the economical point of view! You waste less material and save money. Especially, when it comes to smaller products, you shouldn't use big packages and put lots of paper inside to fill the gap.
Another way of controlling your material consumption is by using rolled paper and paper holders:
Rolled Paper
Rolled Paper is ideal for industrial packaging. Besides the advantage of a better structure and less chaos in the warehouse or packaging department, paper rolls are also a good choice from the sustainable point of view. Cutting paper rolls to the ideal size rather than using pre-cut sheets leads to less waste of material.
The right packaging equipment
Paper roll cutters and packaging holders make it easier to conduct a precise cutting. Your team can easily dispense the perfect size for each product, while saving time and giving and structure the packaging process. Bulman proudly offers a large line of sustainable products for dispensing and organising packaging materials. The Bulman Industrial Paper Cutters can be used for generations! That makes our industrial paper cutters a great choice from the environmental but also the economical standpoint.
Discover our Paper Cutters for Industrial Packaging!
Deluxe Packaging Table
Our practical Packaging Tables consists of six different design and size combinations. The wide size selection ranges from a simple work surface to designs incorporating a variety of functions.
Vertical Paper Cutter
The Vertical Paper Cutter is available in different sizes suitable to your needs. The industrial paper cutter is designed for a practical and efficient holding, dispensing and cutting of rolled paper. Roll changes can be made quickly by pulling the blade to an open position and locking it into place.
Razor X Cutting System
Our Razor X Cutting System is exclusively designed for industrial packaging! The cutting system rests on heavy duty casters for an easy mobility. Two of the casters are lockable, so that the paper cutter can be fixed stay on the needed position. The industrial paper cutter smoothly dispenses many types of packaging materials such as single-face corrugated or thin foams.
3. Train your employees
Make your employees aware of sustainable materials and how to integrate minimal packaging in the process. Include regular trainings in your work process or add small lessons to staff meetings. Only if your staff is trained properly, waste disposal and minimal packaging processes can be implemented.
Images & Links:
https://stock.adobe.com/images/male-warehouse-worker-sealing-cardboard-boxes/189203672
https://www.ecoenclose.com/Paper-versus-Plastic-and-Bio-Plastic-/
http://www.sustainablegreensolutions.com.sg/eco-friendly-plastic-bag/
http://www.pepctplastics.com/resources/connecticut-plastics-learning-center/biodegradable-plastics/
http://www.washingtonpost.com/wp-dyn/content/graphic/2007/10/03/GR2007100301385.html?referrer=emaillink&noredirect=on
https://www.huffingtonpost.com/tom-szaky/bioplastics-and-the-truth_b_8954844.html
https://www.lantech.com/blog/8-tips-to-reduce-packaging-waste-to-promote-sustainable-packaging